Smiths help to forge weapons. They can perform a boost on weapons based on their class. Stats added from boosts are varied depending on smith levels. Players also need to pay wage monthly for hired smiths. The wage depends on total levels.
Class (Smith Job)
[
]
Smiths can level up and change class.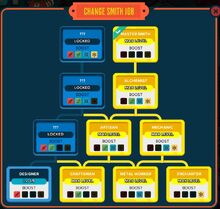 The player can freely change the smith's class anytime they want with the required money for a class change.
Highest tier classes are Virtuoso and Master Smith. However, the lower-tier classes are required to unlock the higher tier class. Every class can perform boosts to weapon crafting except for Master Smith that has highest stats while Virtuoso can boost any weapon.
Mood
[
]
The mood can affect job performance. If the smith feels stressed, it's a good time to send them on vacation! There are 5 moods: Elated, Happy, Neutral, Stressed and Depressed.
Elated and happy will boost job performance.
Neutral has no boost or penalty.
Stressed and depressed will add a penalty to job performance.
| | | | | |
| --- | --- | --- | --- | --- |
| Good <<< | <<<< | ------ | >>>> | >>> Bad |
| Elated | Happy | Neutral | Stressed | Depressed |
| | | | | |
Explorer
[
]
Explore level is improved by sending smiths to explore. Explore levels increase the number of items discover when exploring.
Merchant
[
]
Merchant level is improved by buying materials and sell weapons. Merchant level gives a bonus of $tarch when selling weapons.
Hiring
[
]

Smiths can be recruit from hiring that opens in area 2. Their default class is varied, some will be in the low tier and some will be in the high tier. But their class level will always start at level 1.
Class levels won't reset if the Player fires a smith after training and levelling them up.
Unique smiths will show up randomly on the list while legendary smiths will always show up on the list after an unlock.
Smiths
[
]
Smiths unlocked by fame are also called legendary smiths